Run of River will include an expanded network of four-season, non-motorized, recreational trails on 300 wooded acres in the heart of Skowhegan. The trails will offer four seasons of recreation including hiking, trail running, mountain biking, cross-country skiing, and snowshoeing.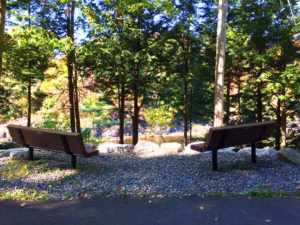 There are currently three trails downtown near the gorge—the Debe Park River Walk, the Philbrick Trails, and the Heselton Street Trail. The Philbrick and Heselton Street trails will need to be expanded and further developed to meet recreational trail standards.
Debe Park River Walk
With 800 feet of river frontage and the 5.6-acre Gorge Overlook parcel, this ADA-accessible paved trail provides outstanding scenic views and access to the river. It runs from Mount Pleasant Street (near the pedestrian bridge) to Joyce Street, where it connects with the canoe portage site, the Philbrick Trails, and the River's Edge Bike Park.
Philbrick Trails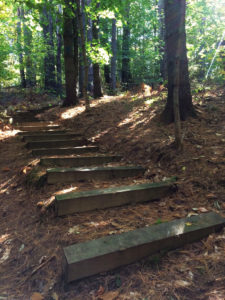 This 34-acre scenic parcel features upland and riparian wildlife habitat, 1,200 feet of river frontage, and a network of trails for non-motorized use. Though currently usable for walking, these trails need to be extended and better developed to be suitable for four-season use. Run of River Committee member Jason Cooke has mapped out a plan that will add nearly 90 acres and create a 5K loop. Landowner discussions are currently underway.
Heselton Street Trail
Located a short walk from the gorge, the Heselton Street Trail winds through a white pine forest. The trail is accessible next to the Margaret Chase Smith School or from Memorial Field at the end of East Maple Street. There are 119 wooded acres just north of the trail that would make it possible for significant extension. The Skowhegan Water District owns this property and is open to a discussion of responsible trail development.
Previous element: Slalom Course
Next element: Riverfront Promenade