Free and open to all, Run of River will provide four seasons of recreational opportunities, creating accessible ways for people to get active in a county that struggles with obesity and poor health rates above the state average.
Local Impact
Only whitewater park in New England
Opportunities for paddling (kayaking, canoeing, stand-up paddleboarding, and more)
More than 300 acres of trails downtown for walking, hiking, trail running, bicycling, crosscountry skiing, snowshoeing
Parks/preserves for wildlife viewing, bird-watching, etc.
State Impact
Maine recognized as an outdoor recreation destination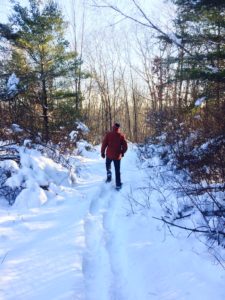 Footpaths along the river and expanded and improved trails on more than 300 wooded acres in the heart of town will offer opportunities for year-round physical activity. Swimming and fishing in the gorge via new river access trails will add to summer pastimes for local youth, while paddling will provide fun and adventurous ways for locals to get outdoors and be active.
The Skowhegan Recreation Department owns canoes and mountain bikes that will be available for use free of charge to Skowhegan residents, and Main Street Skowhegan owns several pairs of snowshoes that community members can borrow for free, providing even more incentives for locals to enjoy Run of River's whitewater features and extensive trail network.
Next benefit: Health and Wellness