Run of River will enhance our natural environment by removing hazardous materials from the riverbed—debris from the collapse of a pedestrian bridge during the flood of 1987—and enhancing fish habitat.
Local Impact
Site restoration
Removal of debris from collapsed bridge
Enhanced fish habitat and passage
Pristine waters
Great location for fishing
State Impact
Improved waterway for fisheries
Enhanced fish migration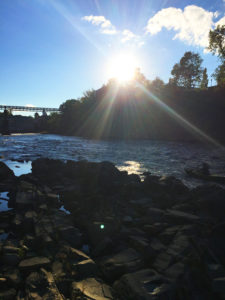 Evidence suggests that the riverbed was altered during the days of the log drives to prevent log snags. The installation of whitewater features is expected to restore some hydraulic diversity, improve fish habitat, and offer safe passage for fish migration.
Located on one side of the gorge, whitewater features will be designed to enable fish movement, and divider islands will create shoreline habitats for migrating fish. Eddies created as a result of the features will produce resting pools, habitat for microinvertebrates, flow refuges, and feeding grounds. Aerated water will also benefit fish species.