Run of River will bring more people to our region, providing the necessary audience, interest, and capital for new cultural experiences and ultimately bolstering the vibrancy of our community. Activities that promote Skowhegan's brand—agricultural, brewery, and historical tours, cooking classes, theatrical performances, art walks, and more—will entertain visitors and residents alike.
Local Impact
Increase in visitors to town = increased need for cultural experiences and activities
Better economy = more money to be spent locally on cultural experiences
More cultural experiences for all to enjoy (concerts, plays, tours, etc.)
Run of River seen as hallmark of community
Reinvigorate community pride
State Impact
Thriving town in rural Maine with high quality of life that will attract new businesses, residents, and visitors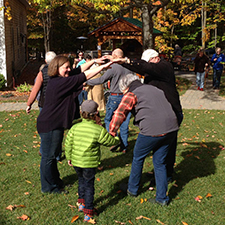 Along with a new level of vitality will come a reinvigorated sense of pride as residents watch our town transform into a sought-after destination. Citizens will be proud to say they live in Skowhegan—a place with a strong economy, outdoor recreation opportunities, a vibrant cultural scene, and a welcoming community.
Next benefit: Environmental Restoration