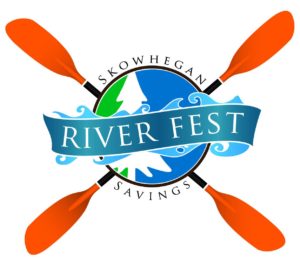 August 1-5, 2018

Designed to showcase the potential of the Kennebec River Gorge as the future home of Run of River, River Fest is Skowhegan's annual multi-day celebration of recreation and life on the Kennebec.
River Fest is sponsored by Skowhegan Savings Bank and organized by Main Street Skowhegan, the Skowhegan Area Chamber of Commerce, Skowhegan Parks and Recreation, and the Run of River Committee.
Click on the images below for more information.
Food Vendors

The following vendors served delicious fare during River Fest 2017:
Crust
Wood-fired pizza made with hand-kneaded dough, homemade sauces, and locally sourced ingredients, plus soda and water

Daughters of Isabella
Classic dough boys and water
Deep Fried Sweets
Deep-fried everything including cheesecake, cream horns, candy bars, pumpkin pie, raspberry cream Bismarks, and more
GFWC Women's Club
Pies
Fahrenheit 225
Pulled-pork and Texas-style chopped-beef sandwiches, ribs, coleslaw, cornbread, baked beans, water, iced tea, and lemonade
The Maine Tater
Chicken wings, chicken tenders, French fries, and corn dogs made with local Maine ingredients
Stan's Fries
French fries, soda, and water
T's Snowie Bus
Shaved ice with your choice of flavor