The flagship asset of the Run of River Whitewater Recreation Area will be the whitewater park.
Ample river flow (2,500 cfs to 8,800 cfs average) will allow for three high-quality whitewater features in the 3,000-foot park—one under the walking bridge, one downriver at the second rapid, and one at the entrance to the Great Eddy. Each will have a drop of 1.5 to 2 feet and a calm water area for resting and self rescue in the event of a capsize. The features will generate consistent, quality waves at a variety of flow levels for kayakers, canoeists, stand-up paddleboarders, river surfers, tubers, and boogie boarders.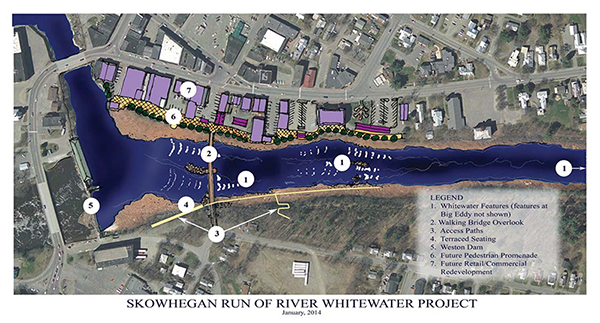 With consistent flow year-round, Run of River will be a favorite paddling destination, and it will attract significant regional and national whitewater paddling competitions.
In addition to the three river features, whitewater park construction will include site restoration, terraced seating on the southern bank of the gorge, and improved river access including an access road, a foot trail from the Debe Park River Walk, and a portage trail along the upper two rapids.
Next element: Slalom Course